Sasquatch Investigations Of The Rockies
Click here to visit our new Bigfoot, Yowie & Yeti Online Store
Sasquatch Investigations of the Rockies is the only Bigfoot research group whose origins
are in Colorado.
We reside in beautiful Parker Colorado, which is South of Denver near the Palmer Divide.
Our researchers focus on the Rocky Mountains.  All our evidence is from Colorado and it
is our own.
Our best asset is our willingness to spend weeks in the field year-round, regardless of the weather conditions.
This is why we are so successful.  We study our friends in their natural environment.
We pride ourselves in trying to be a friend to them always. No strings attached. Harming one or associating with people who do so knowingly has never been an option. It has been and always will be friendship first, evidence second.
This approach has allowed us a glimpse into their world. We have forged strong friendships as a result of patience and caring. We share what we receive in hopes it will educate you in their ways respectfully.
When we are in their home, they are treated with the same dignity and respect everyone should be entitled to by right in our great country. Anything less in our eyes is and always will be unacceptable.
Our goals are to push for more openness within the Bigfoot research community and to
present evidence that will help in protection efforts of this unknown, iconic species.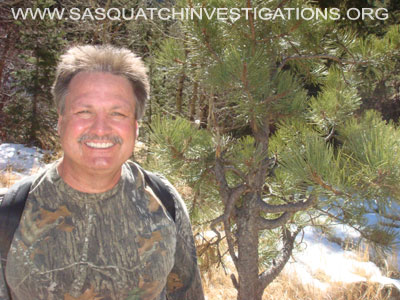 Michael Johnson
Sasquatch Investigations
of the Rockies
P.O. Box 4566
Parker, Colorado 80134
.