Bigfoot Pictures

On July 20-22, 2015 Theresa and Jeff Yelek investigated a new promising area in Northern Colorado for the first time. The first day Jeff did a wood knock and got a response back from the woods in the form of a rock clack. However, it was distant, so Jeff payed little attention to it. Jeff and Theresa experienced little the rest of the night.The following day was cloudy, rainy and the sky's were overcast. With intermittent rain and colder temperatures hovering in the 50 degree range, I forayed out. I was hiking by myself between rain showers at about 4:00 pm mst.

After a heavy down pour of pea size hail, I hiked up to a ridge above camp to check our audio recorder and take pictures of the area. The recorder was dry under a plastic cover, but I placed some wood over it to protect it better from the hail. I had my Sony M-10 recorder pointing to the North.After a few moments, I decided to turn around, which would have me facing south. I had my camera out, turned on with the lens cover off.

Suddenly, I heard a loud rock clack came from right behind me from the North. I turned around and immediately took a picture of the area behind me where the trees were the thickest and in the direction of where the sound might have originated from. I had my Canon T3I EFS 55-250 telephoto lens on at the time on with a Panoramic setting. I saw nothing there, but I did a customary mouth clack to answer the rock clack, but got no response. This exchange has happen before in other areas we research at in the area. So not to be overly forward in a first encounter situation, we always do a mouth or rock clack back and hike on like nothing happened. Never trying to chase after our potential friend. This is what I did this day as well.

That night at camp, it was quiet with a few stick snaps around us like something was walking around us. Later on, a smell of rotting meat or road kill came into camp about sundown. I have hiked here and smelled this before, but this seemed to linger longer than usual. It got our attention, but we had little more on this camping trip. Thus, the next day, we broke camp and headed home.

On a review of our audio evidence and photographic evidence, I obviously focused on the rock clack encounter. We have done this type of exhaustive review before after our research outings going over every picture we take. This photo really stood out. In the center behind some small pines there appears to be a face. This gray face appears to be peeking over the right top of a small pine. It appears to have black hair that is wet and matted down after the rain. It appears to have a deep set eye and gray skin color on the cheek bone and a large gray nose. Unfortunately, we cannot make out the mouth, but it was clearly looking at me. It appears to be almost Native American in its appearance, but this debatable.

At SIR, due diligence is required, we always go back out and try to see if it's a branch or shading or a Sasquatch. We returned and did our follow up investigation on this photo. We could not replicate the picture. We took photos in the early morning and in the late evening to try to get the lighting right, but it was sunny on this day, not dark and cloudy like the day in question. We believe the subject in the photo was about 77 feet away from me and it was also down hill from me at the time of the photograph. There was only about 5 trees between the subject and me. It would be about 8-9 foot tall if it was on a game trail that was in the path of the picture.

We have collaborative audio as well of the rock clack exchange that started this brief encounter.  This audio sequence includes an initial loud rock clack from 20 feet in front of the speakers and then in response you will hear me mouth clacking to answer the call. I was behind the speakers for the response. You will hear something dropping to ground in front of speakers as well.

In the photograph sequence below, you will see my wife, Theresa, is in its place. She is significantly shorter compared to the face in the photograph. There is no object that looks like the subject in the original photo. Please be advised, there are confirmed tree structures in the area as well. We believe the Sasquatch may have made these structures. To date, Theresa has found two here. I have been researching for 5 years with SIR.  My wife is also a researcher at SIR. We found 3 different areas that have Sasquatch in them to date, but this is the most significant piece of evidence of their presence we have obtained to date and are excited to show it to you. We hope you enjoy it as much as we do!

Jeff and Theresa Yelek- Researchers – Sasquatch Investigations of the Rockies

The first photograph is a big picture of the area. The audio recorder is to the left behind the rocky out cropping.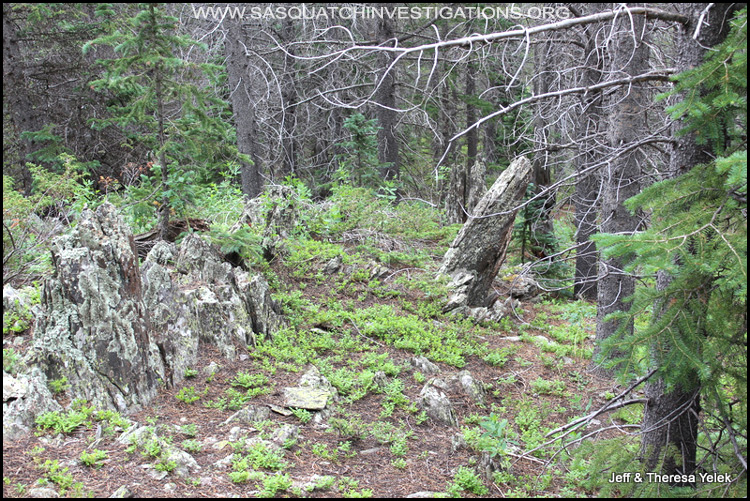 The second photograph is the photograph with the face above the small pine on the right side of the small tree. It is gray and look for the pronounced nose. This is one of the faces in Colorado of the Sasquatch!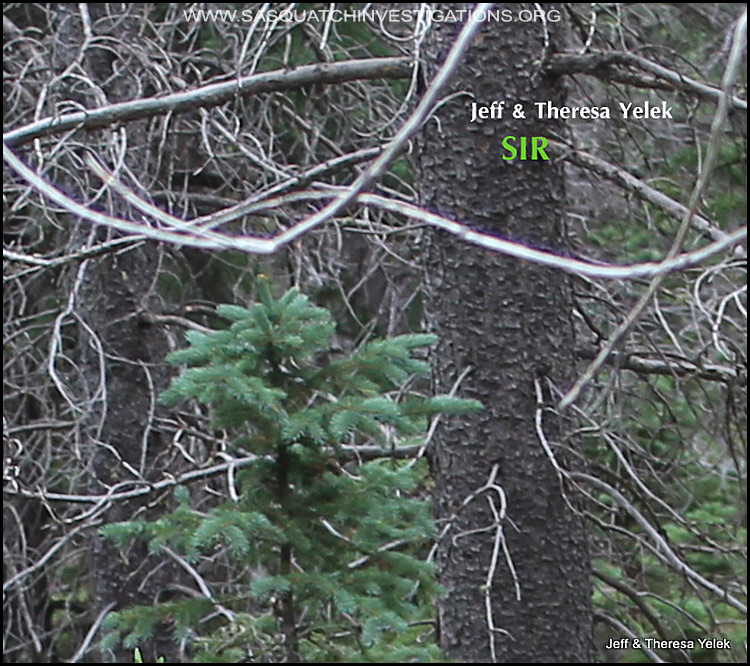 Photograph three shows Theresa in the same spot as the Sasquatch for scale. Please note she is much shorter than the top of tree where the Sasquatches face was caught peeking at Jeff.
The fourth offering is the Audio that collaborates the photograph. At 09 seconds you hear the initial rock knock that prompted Jeff to take the photograph and at 17 seconds you hear his mouth response. At 13 seconds you a rock either being dropped or thrown. We are unsure and Jeff never saw it, but the recorder picked it up clearly.
Audio clip: Adobe Flash Player (version 9 or above) is required to play this audio clip. Download the latest version here. You also need to have JavaScript enabled in your browser.
On a follow up visit to Jeff and Theresa Yelek's Northern Colorado research site the following event occurred at 11 pm on the Monday after Labor day weekend. Scott Barta had went and laid down in the outfitters tent around 10:30 PM. Jeff, Theresa and Mike Johnson were left at the camp fire on a clear, cool evening without wind.

Heavy foot falls could be heard under the canopy next to a creek that flows throw the area with an occasional twig snapping. At approximately, 11 PM a huge crack was heard from less than 50 yards from camp.

In the morning, a huge 70 foot tall live pine tree was found broken partially blocking the road. Next to the tree a star shaped glyph was found indicating who had fell the tree that night.


This is collaborative evidence of Jeff's photograph that Sasquatches frequent this area and the purpose of this trip was to seek evidence confirming his evidence. I have only heard two trees fall in the forest in real time in my 37 years in the forest since moving to Colorado and I attribute both events to Sasquatches.
This was one of those events. I personally believe they do this behavior as a show of strength when they are initially located to try and scare you away. It is quite a compelling event when it happens in your presence.
---
.
This impressive picture was obtained by Ron Petersen, our newest Sasquatch Investigations of the Rockies
team investigator, on March 13, 2009 in the front range of Colorado near Pikes Peak.This shows what we believe is a Sasquatch hiding from Ron after he found its footprints in the snow. Ron also was able to smell the culprit as it hid from him, so he knew it was close by and snapped this photo before he felt the need to leave. He said the smell was very sulfur, like in nature and strong.

This new evidence was recently discovered and is highlighted in this photo for your review. There appear to be multiple Sasquatches in this photo.

Clearly, a whole arm is present separate from the Sasquatch in the center. The arm is bent the wrong way to belong to the individual on the ground. You can see the hand and elbow as well.

The one on the ground is in what I would consider in a birthing type position with the feet forward. You can clearly see the foot at an angle and the black toe nail on one of the digits against the Aspen tree. The thing that is so compelling is how well they blend into their environment in the day time.

The foot design appears very similar to ours, except the black toe nails and fingernails are more similar to those found in the ape family. This evidence clearly shows we are dealing with something different and new. We are excited to bring you this evidence. We hope you enjoy it. Comments are appreciated.

This photo is compelling to me on many levels. This photo originates from an area I know very well. I have had my own
experiences in this area. I saw a Sasquatch myself just south of this well over 10 years ago.

The body shape and head remind me of what I saw long ago. The one I saw was black with black eyes. This one is black as well, but what I find intriguing is how well it blends in. It appears frosted, which is significant since most of our hair samples are gray. Black with frosted gray highlights would be great camouflage in this area in day light and night time conditions.

It is also hunkered down attempting to hide, which is classic Sasquatch behavior. They immolate stones and stumps when some one gets too close some times.

The above photo is grainy because it was pulled out of the image below. When you follow the footprints, they lead to the top left of the picture. So the above picture zooms in to the area where the bigfoot was headed (marked by the red box). Note how the tracks are next to large trees, which they use to hide.

Here's a closeup of one of the footprints, which Ron reported were approximately 19″ long and 8″ wide. By comparison, you can see Ron's footprint on the bottom of the photo, from a size 10 shoe.

.

I have found footprints of various sizes over the years in this area, including 19-20 inchers.

.

Last year, S.I.R. held a 3 day event less than a quarter mile from this sighting and some of the prints on our web site came out of that expedition, so that to me makes it even more interesting.

.

Sasquatch Investigations of the Rockies received the below photo from one of our Wisconsin friends. He checks websites for authenticity as a hobby.He lit up the background on our photo on purpose to highlight everything else in the photo. The faces are clearer and we thought you would like to see this as well. This type of work we appreciate as it further authenticates our work.
Find out more about our Sasquatch Evidence