Brad Jesmer – Sasquatch Investigator in Southern Colorado and Northern New Mexico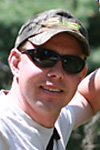 Brad was born in California and moved to Colorado in 1986, at the age of 12. He has resided in the Southwest corner of the state ever since.
He is an outdoor person who enjoys camping, hiking, boating, fishing, photography, etc. He thrives in the outdoors and spends as much of his time there as possible.
His first experience with Sasquatch investigations came in 2009 when he attended an expedition with S.I.R. co-founder Mike Johnson. His experiences in the field on that expedition have fostered an undying interest in research and exploration into these great creatures.
He continually explores and investigates in and around Southwest Colorado and Northwest New Mexico. He has experienced roars, grunts, rock throwing, footprints, and a sighting of one "creature" using third-generation night vision.
Brad is employed as a law enforcement officer and he uses the skills of his trade in his
Sasquatch field investigations.
Here's some of my Bigfoot research articles: