Commonality Of Bipedalism
Commonality of Bipedalism:  The fact or condition of being human
"I am one of those who think like Nobel, that humanity will draw more good than evil from new discoveries." ~ Marie Curie
For over 400 years people in North America have been talking about an elusive something in our woods and forests.
Consistent descriptions of this elusive being have continued even to modern times.
Behavior, visual descriptions, sounds, smells and prints have been consistently reported. Our imagination has been captured
by the sensational coverage of our media.
Hoaxes have fueled our attention in our society.  The science community has largely ignored this phenomenon due to the sensational aspects of this mystery.
For many years now a few brave and curious individuals have researched this phenomenon. With their discoveries they have continued their quest for answers about this mystery. Why would they continue?
They have found enough evidence to convince them that there is something BIG, HAIRY and WALKING ON 2 LEGS in North America's woods and forests.  Many of these individuals have documented their findings.  Some of these researchers have
found some shared common characteristics.
We at SIR would like to share with you our stories of their humanity.  It is these stories that have convinced us that the
world of humanity is much bigger than we thought.
Robin Roberts Story
In the 1 ½ years of actively going out and researching this amazing being I have had several incidents that have pointed out the human side of Bigfoot.  What has truly surprised me was the intelligence of them.
They are human smart and in many cases smarter than most people.  There is a reason why they have been so elusive.
Our woods and forest is their domain and we are the visitors when we venture into these areas.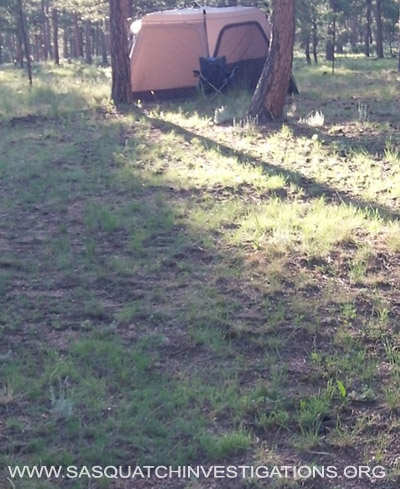 One incident that occurred last summer made me think of their intelligence, resourcefulness and humanity.
It made me rethink my perception of them from a creature to a being.
In July, I and another female investigator Theresa Yelek camped at a regular campground.
We placed our tent right against the fence line that separated the campground from the forest.
We had a very interesting Saturday night before falling asleep.
We heard them walking around our campsite and even our neighbors commented on hearing something big and noisy but they didn't know what it was.
The next morning I walked around the campsite to see if I could see any impressions.
As I was walking around something didn't seem right.  It finally occurred to me that the fire pit didn't look right.
I had made a fire the night before and when we were done I had poured water onto it to drown out the coals and embers.
That morning when I looked the embers and coal was scattered around inside the fire pit.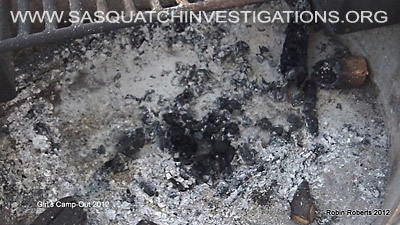 I walked around the pit and saw pieces of coal scattered on the outside of the fire pit.
I knew there shouldn't be any on the outside.  We had been very careful with our fire.
I followed a trail of dropped bits and pieces of the coal towards our tent that was by the fence.  The coal was not there the day before or on Friday.
I had checked the whole campsite when we had set up.  Neither Theresa or I had removed any embers or coal from the fire pit.
It hit me that they must have taken some of the coal while walking around the night before.  In the past I remembered my grandmother talking about using charcoal for tummy aches.  I have no doubt that they were there to gather supplies that would be hard to find in the forest.  How resourceful.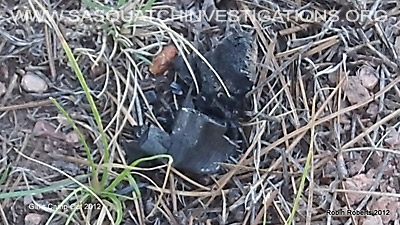 Figuring out to come into a campground for an almost impossible resource is smart, human smart.
The possibilities of its uses are almost endless.  This incident above all else convinced me that this was no ape or animal.  It spoke of human reasoning.
We are setting ourselves up to failure when we classify them like we do with bears or other wildlife.
In case you haven't figured it out when you put a trail cam up, they are watching you do this and will naturally tamper with it or avoid it.
I am truly amazed that people continue to do this and are surprised when they get no results.
We are making it easy for them.  I feel the key to success is being respectful and thinking of their humanity.
Robin Roberts