In Memory Of Brad Jesmer
This page is dedicated to the memory of Brad Jesmer, who passed away on Sunday, 04/21/13.
Here is Brad's SIR Investigation Team member profile.
Brad Jesmer – Southern Colorado and Northern New Mexico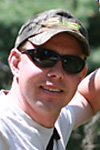 Brad was born in California and moved to Colorado in 1986, at the age of 12.  He has resided in the Southwest corner of the state ever since.
He is an outdoor person who enjoys camping, hiking, boating, fishing, photography, etc.  He thrives in the outdoors and spends as much of his time there as possible.
His first experience with Sasquatch investigations came in 2009 when he attended an expedition with S.I.R. co-founder Mike Johnson. His experiences in the field on that expedition have fostered an undying interest in research and exploration into these great creatures.
He continually explores and investigates in and around Southwest Colorado and Northwest New Mexico.  He has experienced roars, grunts, rock throwing, footprints, and a sighting of one "creature" using third-generation night vision.
Brad is employed as a law enforcement officer and he uses the skills of his trade in his
Sasquatch field investigations.
Here is his obituary story that tells more about Brad.

Southern Ute Police Officer James Bradley Jesmer died of complications of cystic fibrosis and a lung transplant Sunday, April 21, 2013, in Durango. He was 37.
Known as Brad or "Jez," he was born to Frank and Marilyn Jesmer on May 14, 1975, in Fullerton, Calif. He grew up in Ignacio and Arboles, graduating from Ignacio High School in 1994. He spent many of his teenage years working at Navajo Reservoir as a "dock boy," his family said, "where he met and entertained many people with his humor and charm."
In 1996, Mr. Jesmer earner an associate of applied science degree in mechanical drafting and design from San Juan College in Farmington.
He ran a boat-repair shop at Navajo Reservoir and in Farmington from 1997 to 2008.
In 2008, Mr. Jesmer underwent a double-lung transplant at the University of Colorado at Denver Hospital. That allowed him to attend the San Juan Regional Law Enforcement Training Academy in Durango to pursue another life goal, joining law enforcement. He graduated May 14, 2010, and went to work for the Southern Ute Police Department.
In July 2012, he had a second double-lung transplant.
Mr. Jesmer enjoyed hunting, hiking, camping, fishing, photography and spending time with family and friends. He was an investigator for Sasquatch Investigations of the Rockies and had a passion for the organization, his family said.
"He was an outstanding engine diagnostician, and was always more than happy to help anyone who asked," his family said. "Brad always made everyone around him laugh. He always had a funny story to tell or a joke to make. If you knew Brad, you know there was no being sad or upset around him because he could make the saddest person laugh with his endless comedy acts."
Mr. Jesmer is survived by his parents, Frank and Marilyn Jesmer of Ignacio; sisters, Leesa Ryan of Farmington; Codi Whiteman-Burkland of Vernonia, Ore.; brother, Kevin Winch of Ontario, Canada; grandmother Irene Gray of Ignacio; companion, Amber Albo of Bayfield; three nieces; and numerous extended family members.
A service of remembrance will be held at 10 a.m. Wednesday, April 24, 2013, at the Southern Ute Multi-Purpose Room, 258 Ute Road in Ignacio. Burial will take place afterward at the Pine River Cemetery in Bayfield. A luncheon will be held after the burial at Ute Park in Ignacio.
In lieu of flowers, memorial contributions may be made to the "For benefit of Brad Jesmer Account" at Wells Fargo Bank to help cover medical expenses; or the Cystic Fibrosis Foundation, 65 Roses Club, 6931 Arlington Road, Suite 200, Bethesda, MD 20814.
Here is a message from SIR co-founder Michael Johnson
Brad Jesmer was and will always be my friend. When I walk in the woods now he walks with me and he knows all the things I wish I knew…
I met Brad at a gathering of Bigfoot enthusiasts about 5 years ago. We became friends instantly. In fact, it was like we always knew each other.
We both loved the outdoors, all things Bigfoot, laughing, exploring and having fun.
At the time, we first meant was when I connected with a new group of Sasquatch in NW Colorado. One thing all people must learn, the Sasquatches pick you as a friend. Not the other way around.
Funny thing was in the beginning it was tense because the Sasquatches will always try to scare you away initially because that's their way. Brad had little fear. He slept by himself in a one person yellow tent and I always kidded him that he was the looked like a breakfast burrito to our forest friends.
I told him I knew what happened to him if he was gone in the morning. No one slept at all that trip. We just laid in our tents listening and slept during the day. We saw two big Sasquatches swaying back and forth in night vision. Brad was so excited as he saw one lean with its arm against a tree. We talked about this trip a lot.
Brad and I talked frequently. Last time I saw Brad was after his surgery in Denver. My son and I took him to Ted's to eat.
I will miss Brad more than I can say. His loyalty as a friend and his passion for his hobby were unparallelled. He loved being in the woods and he loved learning about our forest friends. He was a man's man like me. His humor made life fun.
Brad will always be a part of SIR, but most of all he will always be my brother. He will be missed more than I can say.
Michael Johnson-Co founder-SIR