This Sasquatch research page shares the stories of Michael Johnson's three children.
Aubrey's Story
My first time I went on a Sasquatch expedition with my Dad was in May 2009. It was with a group of all people I knew very well. It was also my sisters first time ever going so we were both excited, although we had camped with him for fun many times before. We were only staying for one night on this trip so we really wanted something to happen. When it started to get dark I started to get excited and nervous.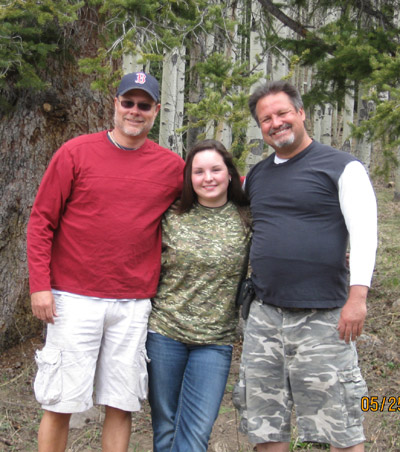 To start off the night we were all sitting around the fire and listening to a tape with all kinds of Sasquatch noises on it from other investigators. Listening to that in the dark is scary enough in and of itself.
So I was already mildly terrified as that echoed through the forest. Once that ended we all later gathered around the fire after my Dad and sister had heard something grunt and run behind them. Nothing more happened.
Next we gathered up our things and headed for the gully behind camp. There was around seven of us and we had only three head lamps so we stayed close to each other.
We were about 1/2 way down the path down the ridge when we heard a deer running and it crossed directly in front of us. It scared me to death.
We continued to walk and not one minute later down the ridge, we heard a terrible, strange screaming sounds coming from where the deer had ran. So we all stopped dead in our tracks and listed to the animal screaming and scuffle around for a few minutes until it went dead silent. I was so scared I went back to camp with my boyfriend at that time. The rest of the group went back down the gully again without us.
I didn't have any other experiences the rest of the night until I went to bed. It was between 1-2 am and I had no slept yet because I was afraid to close my eyes. My sister and I were sharing a huge cot since we were only staying one night. It was really quiet that night and there was no noise outside the tent, not even the wind.
Then out of nowhere I heard a faint grunting noise from behind our tent near a big tree. Then it sounded like it shifted its weight I could hear it lean closer to the tent. The grunting sounds eventually turned to louder grunts and then straight into a weird sounding chatter. My Dad calls this Samurai chatter.
It literally sounded like it was right next to the tent and it was like it knew I was still awake and it was talking to me. I continued to lay there paralyzed in fear not able to move and afraid to move to wake anyone else up.
The chatter sounded quite human like exactly what was on the tapes we had listened to earlier in the night. The grunting and low grumbling noises were the scariest sounding almost angry. It felt like it stood there talking and moaning right behind me for what seemed like forever, but it was probably 10-15 minutes. Then someone in the tent shifted and just like that it was silent outside again.
Now I really wasn't going to be able to sleep so I laid there waiting for the sun to come up. Right around 3:30 am I started to feel tired and relaxed a bit. Then at the corner of the tent where my dad was sleeping I could hear my Dad's heavy snore, which is very distinctive. Then right behind him it sounded like another snore started up. It was in a much lower tone and I could tell it wasn't my dad or anyone else in the tent.
So once again I froze and listened. This one sounded like it was lower down like it was squatting or sitting next to the tent this time. Every time my dad would snore it in turn would try and mimic his snore or try to copy the sound back to him. It was a deeper snore and more growly with grunts mixed in.
This lasted about 7 minutes or so and then the sound trailed off to silence. Finally the sun rose and I woke my boyfriend up and the entire tent and told them of the crazy and awesome night I had and how amazed I was that I was the only one to heard it all night considering how loud it was. That night made me a true hard core believer and I can't wait to continue on going on trips with my Dad.
Ashleigh's Story
In May of 2010 I went Sasquatching with my dad for the first time. Being that I had never gone before I was a little skeptical of it all, but was shocked to find that this experience was like none other that I had ever had.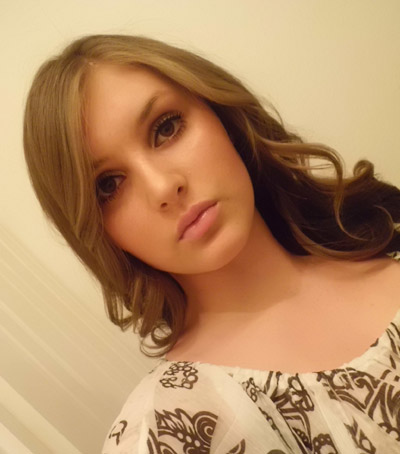 Camping on the other hand was not new to me. This time began like all the others where we set up the tent, gathered wood for the fire, and prepared dinner.
Once the night fell my dad, sister, and I gathered around the fire talking.
For a moment it got completely quiet. Several yards behind us in the trees I heard loud, stomping footsteps running past our campsite.
This was the first time I had ever heard anything like that. I looked at my dad scared out of my mind and asked him, along with my sister, if they had heard the same thing and they had.
Shortly after we had heard that we got ready to go down to the meat pit (as we call it) where we were going to put plates of meat for Sasquatch. It was pitch black by this time and the middle of the night. I was terrified since I hadn't seen where we were going in the daylight so I had no idea of what the terrain was like.
My dad and his best friend Scott both had red headlamps on but my sister and I had no lights so we were between the two of them. All the while I was holding on to my dad's hand. We began to walk down to the meat pit but in order to get there we had to walk along the edge of the ridge above the ravine below but we had to shuffle side to side because it wasn't very wide.
Minutes after we left I heard the strangest sound I have ever heard. The loud screeching sound of a dying animal came from directly below us in the ravine. The sound, which lasted for what seemed like an entire minute then faded to dead silence and there was nothing.
Too scared to continue, my sister made her way back to camp but I knew at that point I still wanted to continue because my adrenaline was at an all-time high. The three of us continued to make our way down to the meat pit. In order to get there we had to finish along the ridge and eventually had to walk along a huge log over a stream.
When we made it to the meat pit we placed the plates of meat atop a rock and turned around to head back to camp. We made it back to camp a while later but it's hard to even explain how terrified I was at this point. The next day we returned to the meat pit to find the meat completely gone, the plates neatly placed in the very spots we put them the night before, almost as if they had been untouched.
We hiked around the area in which the loud screeching noise came from and found nothing at all, not even a trace of any animal or blood left behind. This gave me chills. This experience was the most exciting, yet terrifying experience of my life, and something I will never forget. And I can now say that I am a believer because of the things I heard, felt, and experienced firsthand.
Trenton's Story
He is my adventurous 12 year old son in the 6th grade. He goes camping with Dad almost every time I go. This profound experience he is discussing slowed him down a bit and he missed the next two trips because this was an overwhelming experience for him. I went alone the next two times until he felt comfortable again. I learned a valuable lesson here as a result of this.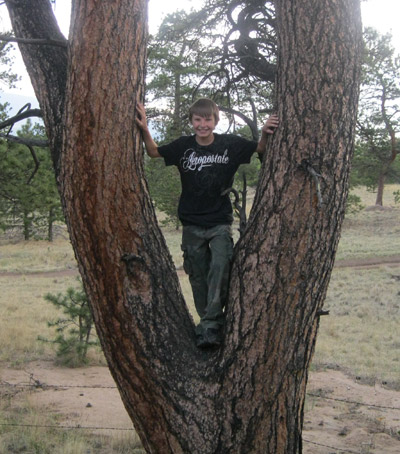 This summer I went on a trip with my Dad to his spot in the middle of Colorado. It was about 10 o clock when my Dad left to go call Sasquatch.
There were four of us in the group including Scott Barta Dad's friend.
When we got to our spot we set up chairs and then we started to call. It took about 10 minutes tell they finally came.
They moved around us in the dark on three sides. When the first came out we started to call them and talk to them to see if they would come closer.
Shockingly it did come closer, but as it started to come closer more eyes came out.
By the time we were done calling there were more than 15 separate sets of eyes looking at us turning from red to green to white.
They also talked to us the next morning waking us up at 06:50 am. Now as I was sitting there I was a little scared. I wanted to go back to camp, but after my Dad talked out loud to them I was not scared anymore. I knew they would not hurt me.
They were happy we were there and we were happy they were there. We left them food, which they ate. It was about an hour and forty five minutes when they started to leave and we were sad they left, but were glad to see them there again.
Find out more about our Sasquatch Research