S.I.R. Bigfoot Research Partners
Sasquatch Investigations of the Rockies now has Bigfoot Research Partners.
They follow the same mantra of respect and good deeds for our forest friends.
We share the same philosophy, goals and desires.
We work together to further each others research with our forest friends.
North/Northeastern Sasquatch Investigations
Brad Corless – Idaho, Utah and Wyoming

Brad is a native of Northern Utah he grew up hunting, fishing and exploring the Northern Mountains of Utah.  He learned how big game animals and non-game animals live and move in the forest at a young age.
He's been a big game hunter and avid outdoorsman his whole life, and has been a hunting guide, trapper, and a U.S. Forest Service range crew – forest fire fighter.
Brad has been researching and chasing Bigfoot since the Patterson film of 1967. Brad has also had three visual encounters himself.
Other encounters include rock throwing, howls, and roars.  The mountains are the only place that he truly calls home.  Brad is excited to be a part of S.I.R. and to prove Bigfoot is real!
Sawatch Squatch Watch
Joe and Kathy Dowlearn – Central Colorado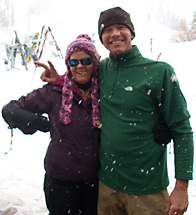 Joe and Kathy Dowlearn both grew up in the Texas Hill Country and have a love of the outdoors.
After moving to Colorado in 2011 and having a few odd experiences while camping and gold prospecting, they turned their thoughts to the possibilities of Sasquatch.
In 2013 they formed the Sawatch Squatch Watch, named after their primary area of research, the Sawatch range in central Colorado.
Finding, seeing, and hearing evidence first hand has created two more believers!
Although the SSW is in its infancy, their mission is to educate humans  and help protect our forest friends!
Our new Bigfoot Research Partners are a great addition to our Sasquatch Investigations of the Rockies Investigation Team to increase our research capacity.