Our Sasquatch Investigations of the Rockies Researchers
Michael Johnson is the driving force behind Sasquatch Investigations of the Rockies.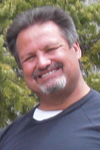 Michael came to Colorado in 1977 from north of Salina, Kansas.
He instantly fell in love with the mountains and Colorado, and
has spent countless days and nights exploring its majesty.
He got started in this endeavor in the 1990's after finding 17″ footprints
in the snow at Rampart Range during Thanksgiving break.
In the same location, Mike had a Class 1 Bigfoot sighting when he saw a male Sasquatch in person.  This sighting was investigated by the Bigfoot Field Researchers Organization (BFRO).
Mike is very comfortable in the woods.  He hunts elk and pheasant, and is well adapted to search for the legendary creature in the remotest areas of Colorado, in all four seasons.
Mike is a Christian man, he is a husband, a father of three, and a proud grandfather.
He is very spiritual, whether it be his religion or his search for his Indian heritage.
He is a man's man, who loves life, the outdoors, his friends and his family. He is painfully honest, which has been his biggest challenge in this field, much to his surprise.
Mike is interested in both the scientific side and spiritual side of the Sasquatch Equation, which makes him a unique individual in the field today.
Scott Barta, Sasquatch Investigations of the Rockies Co-Founder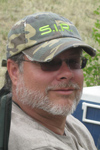 NEW – Read about Scott's new book, Last of the Baby Boomers.
I have known Michael Johnson since 1967.  After graduating college I moved to Aurora, Colorado in 1987.
Mike and I worked for the same Insurance Company for four years. When I moved back to Kansas in 1991 he had talked to me about his interest with Sasquatch and in late 1990's he advised me of seeing a Sasquatch in the Pikes Peak region.
Frankly, I was not very responsive to it. Over the years we would camp around and he would usually bring it up but not every  time.  Little did I know he was looking at all the camp spots we went to.  He just did  not announce it to me or whom ever was with us.
Now when I say camp spots when you are with Mike Johnson that can be an extremely remote and beautiful location.  I have had the pleasure of camping and traveling the Colorado Rockies with a true modern mountain man.  He is like a tour guide pointing out the topography of the area we are in or going through.
He is a careful, well thought out outdoors man.  Most of what I said about Mike applies to Scott Walter as well.  Scott and I have only known each other since the first excursion and I like what I see, very technically sound.  Mike, however, is at a different level than anyone I have been around concerning the mountains.  That includes Fauna, Flora and waterways.  The list is endless.
Well in 2009 Mike went on an expedition and Scott Walter was there as well.  I called him afterward and he said I had to go with him.  We went in July of 2009 and I was going in with my mind as a "zero believer".
I was open minded because of Mikes credibility with me but I felt I would punch holes in what they were telling me. I openly was known as the non believer.  That lasted for one night. Let's just say they would ask me to put a percentage on where I was on believing.  The percentage went to 50% by day two.  By the fourth night of a five night stay I was 99% believer.  It's hard to be a 100% when you have not actually seen one to the degree that Mike has, as Scott Walter will attest.
As we were leaving our site I told Mike I wanted to go back up. We postponed my plane flight a week and we went to his home for the weekend and then went back up for another six days.  Now, after countless excursions, which are much harder for me to make due to my proximity, I have had a litany of life changing experiences.
I am truly blessed to have had the opportunity to work with Mike, Scott Walter and our other S.I.R. researchers.  The things I have witnessed and heard are not sounds or behaviors of anything or anyone you come across in Kansas or anywhere else for that matter.
However, these special sanctuaries in the mountains are rife with strange goings on and small minutiae of events that unless you are tuned into you will miss.  The one thing I do know is there is no Wizard, and not even a man behind the curtains pulling the strings.
I have not had to experience everything vicariously.  I have actually had a front row seat to the greatest phenomenon on earth. I know I am closing the gap on that 1%.
S.I.R. Investigation Team
Ron Petersen – Colorado

Ron grew up in northeast Iowa on a farm where he developed an appreciation for the outdoors. In 1982 he came to Colorado where he met his wife Toni.
They decided that Colorado was an ideal place to live and raise a family. They have five children and enjoy hiking and camping together.
Ron's interest in the bigfoot phenomenon became serious when he found footprints of the creature in 2009. He has since developed an in depth knowledge of the Colorado forests and wildlife.
His investigative skills include an eye for detail and being very thorough with evidence.Ron's goal is to provide "Through field research" information for people to decide for themselves if "Bigfoot" is real or myth.
David Ottke – Colorado

David Ottke of Aurora, Colorado is a dedicated researcher and investigator at SIR. He has been investigating the Sasquatch mystery since 2006. He has attended expeditions and conferences in Colorado, Oklahoma, Nebraska, Utah, Wyoming and Arizona.
He and Mike became good friends in 2008 when they meant on a Bigfoot outing. They have camped and investigated Sasquatch many times since then throughout Colorado. They attended the Honobia conference together in 2011.
David brings great casting ability to the group. He also brings wit, skepticism, and great stories as a part of his repertoire, which are always welcome around our campfire. He is easily recognized when he is out and about because he has outline of Patty stenciled on his Toyota Tundra truck that he proudly displays.
He is our elder statesmen of the group. We appreciate his friendship and his contribution to our group. Plus, he makes a darn good cup of coffee on those cold mornings when its really needed.
Jeff Yelek – Northern Colorado

Jeff is a native of Colorado, is married with two sons, and has a deep interest in Colorado history. He loves hiking, fishing, photography and metal detecting. Horticulture and Forestry Management were his main subjects of interest in school.
My interest in Sasquatch started at the young age of 11 with the movie (The Mysterious Monsters) in 1976.
In the summer of 1979 while camped at a high mountain lake in Larimer county, a friend and I had rocks thrown near us at night while we fished and had been gifted a large climbing carabiner there years later at this location. Only after talking up research and investigating reports did I realize I had had encounters with sasquatch and never knew it.
My main reason for joining SIR was to see for myself what it was that roams the woods with us. The evidence is out there ,It is just waiting for us to find it..
Jon Roberts – Colorado

I live in Castle Rock, Colorado.  I moved from Michigan to Colorado 14 years ago.  The climate and the mountains drew me here.  I haven't looked back.
I enjoy the Detroit Red Wings, sports and the outdoors.  I love to camp, hike and fish.  I joined my wife, Robin in her research of Bigfoot so she was not going out there alone.
The best thing about looking for Bigfoot is spending time with Robin.  While researching with her, I have seen and heard enough to keep me interested.  This has convinced me that there is a bipedal primate in our forest and woods.
I continue to research because I don't know what I will discover next.  I am amazed that Bigfoot is hiding in plain view and most people are totally unaware.
Kristi DeLoach – Colorado

Kristi was born in Athens, Ohio and moved to Colorado in May of 1994.  She is a lover of the outdoors and is an avid camper.  Her love of Colorado has grown as the years passed and she experienced the joys of backpacking and spending time in the remote wilderness areas of Colorado camping and hiking.
Always being a believer in Sasquatch, her belief of their existence was confirmed in the winter of 2012 when she and her husband, Robin, discovered a set of large in-line tracks in the snow.  She began researching in the area and came upon a small valley where she and her family have spent many hours interacting with the Sasquatch.
That interaction has included the leaving of gifts for the Sasquatch and the thrill of acceptance when they would, in turn, leave gifts of feathers,pine cones, stick symbols and grasses.  Although no visual encounter has been experienced as of September 2012, Kristi has had the pleasure of finding many foot prints and tree breaks and of hearing whoops, knocks, whistles, tree breaks and rock clacks as well as tiny "wups" repeated over and over that she believes were made by an infant Sasquatch.
Eyeshine has become more frequent on night research excursions and the Sasquatch are steadily getting closer as the friendship between them and Kristi culminates.  She believes that continued kindness and patience will result in a visual encounter when they feel it is time.
Kristi is eager to continue her research and hopes to be rewarded with insightful knowledge she can share with fellow researchers and others who have questions about Sasquatch.
Robin Roberts – Colorado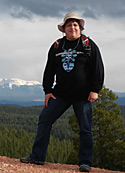 Hi!  My name is Robin Roberts. I live in Castle Rock, Colorado.
I started on my journey of discovery of this amazing bipedal primate in 2011.  I have been with SIR since 2012.
I have had several visuals of this elusive primate.  I am not a believer of the Sasquatch but a KNOWER.
I know they are real and out there in our woods and forest because I have seen, heard, smelled and experienced them.
It is my intent to discover more about them.  So my journey of discovery continues.
Theresa Yelek – Northern Colorado

I grew up in Prince Fredrick, Maryland until I was 8 years old. Then I was moved out to Colorado and fell in love with the mountains. I have been going to the mountains since I was a very young kid.
I am married to a wonderful man and we share two beautiful sons. My husband introduced Bigfoot into my life about 20 years ago. But, I did not really open up my eyes to Bigfoot until 2009.
I am a 100% believer and yes I have had the privilege to see one. My husband and I share
this passion together and this brings something very special into our marriage.
I love hiking, fishing, camping and just being in the outdoors. I also really enjoy photography and Bald Eagles.
Tony Lombardo – Colorado

Tony is a California native and just moved to Colorado in September of 2012.  He became interested in the Sasquatch as a child growing up in the foothills of Northern California.  Since July of 2011 he has been producing a short documentary about the phenomena regarded to by the S.I.R. as "Sizzling."
Tony has been out in the field in California and Colorado with more than one group of Bigfoot researchers. In Colorado, he has been with SIR for a week in the field at two locations.
Tony enjoy's working with electronics and photography, but mostly the chase. He is extremely interested in the Infra sound phenomenon and it dynamics. He looks forward to many new adventures in the future.
Jim Brown – Colorado

I moved out to Colorado, after college, in 1978 and I immediately spent the next several years working in Wyoming.
While I did not grow up hunting and fishing like so many, I spent many summers out in the country and sought out what ever woods were available in each of the many cities I lived in while growing up.
My lifelong love for the sea was supplanted with a deep love for the mountains, even before I first visited Colorado, because of a chance event in college  While not climbing any more, I continue to go to the mountains, usually by myself, at every chance.
My background is in the sciences and I think of myself as an "open minded skeptic."  That is, it is unscientific to disbelieve just because it is unscientific and that empirical evidence, while not proof, is a great indicator that something needs to be studied seriously.
I have been curious about Bigfoot since I was a little boy but my interest was rekindled in a big way while looking up an incident that involved someone I knew.  I found thousands of incidents; the above mentioned empirical evidence.
I have been out four times now with SIR and have seen eye shine, foot prints, wood knocks, many structures and some just plain old weirdness (not always on the part of the investigators).
I am married now for 30 years and have two sons and, thankfully, no grandchildren.
I look forward to new discoveries and new adventures with my friends.
Francisco "Paco" Elizalde Jr. – Colorado

I was born in Texas and grew up in California. After graduating from high school in 1968, I joined the U.S. Army, where I spent 21 years till I retired in 1989. I am a Vietnam War Veteran and recipient of the Bronze Star and Purple Heart. My combat tours include Korea (DMZ) and Vietnam.
During my time in the U.S. Army, I had the opportunity of being stationed in Colorado and Wyoming. It was during these tours that I had become an avid hunter and fisherman. I fell in love with the Rocky Mountain Region and became more of an adventurer of the great outdoors.
As far as Bigfoot or Sasquatch was concerned, I was a total skeptic. I thought that anyone who reported to have seen a Bigfoot must have seen a big bear or were imagining things. It was not until 1982, when I was hunting in Wyoming with three other friends, that we encountered a tall creature, at about a little less than a hundred yards.
We each had high powered hunting rifles with scopes on them. We all scoped the creature and we could not believe our eyes. We were looking at the legendary 'Bigfoot". We could have easily shot and killed it, but decided not to. It was not threatening us or acting in an aggressive manner. We all went back to our camp and packed up what we could and left. We never reported the encounter or discussed it with anyone.
I first brought it up to one of S.I.R.'s investigators and was interviewed by phone in 2013. Since then I have been on a few investigative research missions with S.I.R. Members. And, just like Michael Johnson, I, too, am interested in the scientific side and spiritual side of the Sasquatch Equation.
I have been in the investigative field, as an insurance defense investigator and private investigator, since 1992 and I feel that I can contribute to the team with my skills of attention to detail, report writing, interviewing skills in addition to my outdoors skills and knowledge of the Rocky Mountain Region.
Patrick McWilliams  – Colorado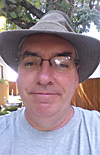 My Name is Patrick McWilliams. In 1991, I received an Associates degree in Security, Investigations and Interrogation from a school in Omaha, Nebraska.
In 1995, I moved from Lincoln, Nebraska where I was born and raised and moved to Denver. Colorado where I received a degree in Industrial Design Technologies (Product Design).
I received two degrees from the Colorado Institute of Art. Currently, I paint and design on silk ("self taught"); this removes stress from my life. I work at Swedish Medical Center in their Communications Department.
Hobbies include composing music and placing it on soundcloud.com, gold hunting around Colorado, flying my drone (with camera), learning to play my first stringed instrument S type Mandolin (I have been in bands on and off for 30+ years playing drums and percussion), and camping with family and friends of S.I.R.
The cameras that I use are a Canon SLR 35mm film, Pentax Optio WG-1 Rugged Waterproof Digital Camera, Panasonic FZ1000 LUMIX DSLR and a Bushnell Equinox Z Night Vision monocular which can record video or take single photographs…. But it does not record audio. I also photograph the night sky, targeting the Milky Way.
Back in September 2015, I was camping in Bailey, Colorado with family and our dog Riley. I had my first sighting of a Large Big Foot, estimated height of 12' tall. He stood behind a large boulder looking over it at me. We stared at each other for at least 5 minutes and were about 7 to 10 ft from each other. Around the 2 minute mark I yelled, "Hey Dude", and I smiled. He in turn looked like he smiled back at me. Soon after that I said, "Hey Bear." He kept his smile and lowered himself behind the 7' tall boulder and then proceeded to play peek-a-boo with me. Thinking of my dog, I decided to move him away from a possible threat, thus we walked away, but I kept looking back to see if he was still looking at us.
But it doesn't stop there, I never thought I would see a Big Foot in person but also during that camping trip, I had taken a photograph of a quite large looking Big Foot sitting under a pine tree. It looked like a Silver Back Gorilla; the height was close to 5' tall in a sitting position. A few moments later I had my face to face encounter.
In the day light, I also photographed 2 female Big Foots on a cliff side in the park; 1 was standing on a dead tree overlooking the valley below, and the 2nd was kneeling Indian style by 2 caves.
The last night camping there, I heard a large bipedal creature with heavy footsteps walk from the face of the mountain right into my campsite. As it got close, you could hear the trees' branches snapping  with each step as it walked through the trees. It proceeded to play with my hammock, which was setup to right side of the tent I was in. It caused 3 of the campsite's dogs, including Riley, to sound off, only to cause them to whimper, then cry a bit, and finally go silent. I did a separate night trip a few weeks later and caught eye shine on the Bushnell Equinox Z Night Vision monocular from 3 different locations in and around the Bailey, Colorado area.
Brian Hammond – Colorado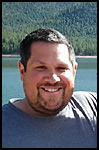 My name is Bryan Hammond. I currently live in Arvada Colorado, but am hoping to move in the near future to either Bailey or Leadville Colorado. Both of which have a good history of Sasquatch activity.
As a kid I was always hooked on anything Bigfoot that would come on T.V. I could not get enough of this mystery. In the spring of 2012 I decided I wanted to see for myself if this mystery was just a myth or actually a real living creature.
I started researching sightings in the mountains around Denver within a 2 hour drive of my home. I would go out with my two daughters looking for anything that looked to be possibly sasquatch related such as tree structures. I found a couple good locations that had nearby activity and sightings reported. This initial research payed off big time for me because I started to find all the signs of the elusive "Big Guy".
On May 7th, 2012 my life changed forever! I had my first sighting of what I believe to have been a juvenile sasquatch. I was in one of my now research locations with my two daughters out hiking. I found an overgrown old horse trail that I decided would be a good place to hike up. Boy did it pay off. After making several tree knock and whoop calls, I saw an all black figure from head to toe walking near the trail we were just on. I saw it for 2 strides before it went behind some trees. I told my girls to sit because I was freaked out. I sat there for about a good 5 minutes staring at the last seen location to see if I would see the sasquatch again. I never did. The next day it snowed up at this location being it was early May. So I decided to go back up to see if I could find any evidence to support my sighting from the day before. I then found a 17 inch, a 14 inch and 12 inch prints in the snow. I know now I came across a small family of Sasquatch. Needless to say I am a knower and not a believer any longer.
In my experience I have found if you want interaction with sasquatch, you need to go out with peaceful intentions and respect of their forest. I also find that I have more experiences when I go out with no camera, recorders, or any electronic devices. It seems the less I try to capture evidence of their existence, the more I get awesome experiences.
Harriett McFeely  – Nebraska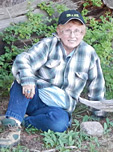 My BIGFOOT quest started on May 29, 1953 when Sir Edmund Hillary climbed Mt. Everest  AND, he saw Yeti footprints !!  I was only 8 at the time.  But, I BELIEVED, and I have never looked back or doubted…..
On October 20, 1967 the Patterson/Gimlin film was made of "Patty".
I never doubted it,  and I still don't…. I was "hooked" for life.
When I was a kid, there were no dolls for me.   I had dogs, cats, horses, snakes, pigeons, field mice and hamsters.  In the summer,  I had my own tent set up in our back yard., and that is where I slept.     When I was about 10 or 11 I was out hiking in Southern Nebraska and I found a 13 pound fossilized wooly mammoth bone !  To this day, that is still one of my most prized possessions.
I wanted more than anything to go to college and become an anthropologist/archaeologist.
But, my mom was a widow and there was no money for college.  And then, the "DREAM KILLERS"  attacked me and said,  I was "too stupid to go to college,  AND, besides, anthropology was a dumb thing…"  And, that was the end of my dreams………for almost 50 years………….And, now, they are having BIGFOOT  tv shows, , and documentaries,  web-sites, books and conferences, and camp-outs.!!!!!!
I feel like I have been Born Again !!!!!  So now, I am able to read , study, and "go to college!"     Recently,  I met Robin Roberts and other S.I.R. members in Honobia, Oklahoma (April 2014) at a BIGFOOT Conference.  I was very impressed with the group;  their presentations, and their obvious integrity.
In August Robin invited me to Colorado to an ALL-GIRL CAMP-OUT right in the middle of BIGFOOT country !!!  I would have gone if I would have had to walk all the way!  I had one of the most wonderful weeks of my life.  Robin and the other S.I.R. members were excellent, patient teachers and very thorough.  They were excellent "trackers" and always preferred to under-play their findings rather than to "Hollywood up"  the facts.      Robin is an excellent teacher and a wonderful mentor.  I am very happy and honored to call her my friend.  In my wildest dreams I would NEVER have believed that I am now able to join in on the investigations and the "hunt for BIGFOOT".   Thank you God, and thank you so very much to S.I.R.
Harriett McFeely,  Hastings, Nebraska
P.S.  We live a few miles out in the country and I have BIGFOOT there,  and a "crossing sign".
I have some deer  bones from the "killing field",  driftwood,  and I am building some arches…. That way,  if BIGFOOT ever shows up here, I want him to feel right at home and WELCOME.
Ellen V. – Nebraska

I am from Southeast Nebraska where I, along with my family, manage a  family farm. I have been fascinated with the subject of Sasquatch since I was a very young child, when my Dad took my siblings and I to see the original movie documentary of the Patterson Gimlin film in our local theatre.
Since that time, I have always loved to read and study about the subject.  My favorite place to be is outdoors, and I am happiest when hiking or horseback riding.
Most of my firsthand creature experiences have been in the Missouri Ozarks, where we own property, and I spend time there in the woods whenever I can get away.
I help to organize and promote the Nebraska Bigfoot Conference, which is hosted by my friend Harriett. I have a busy life which involves my family, and our horses, dogs,  and other animals, working on our farm, traveling, maintaining our Missouri property,  as well as being a glass artist doing stained and fused glass art.
I am very excited to be a part of the S.I.R. team and look forward to our future endeavors in the wilderness.
Shane Carpenter – Missouri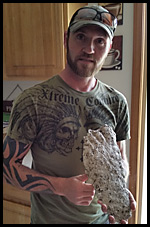 I was born and raised in southern Missouri. I am married with three children, of which my oldest (11) frequently goes with me on my field trips.
I reside in Springfield Mo, and love to hike and explore Missouri's National Forest areas, occasionally going down into northern Arkansas.
I hope to bring evidence to further our understanding and knowledge of what is known as Sasquatch.
.
Trenton Johnson – Colorado Junior Investigator
Trenton Johnson has been with SIR from its inception. In fact, he has grown up with SIR.
He is a seasoned investigator learning from his Dad over the years and the rest of the team. He has experienced and seen them in real time on more than one occasion at more than one location.
This year he turns 16 and he now drives his Dad to the camp site. He is an integral part of our organization.
His other hobbies and interests include video games, everything about cars, Lacrosse, and camping with his family and friends.
Save