On this bigfoot research expedition on June 10, 2011 in Central Colorado, one of our Sasquatch Investigations of the Rockies explorers found this footprint.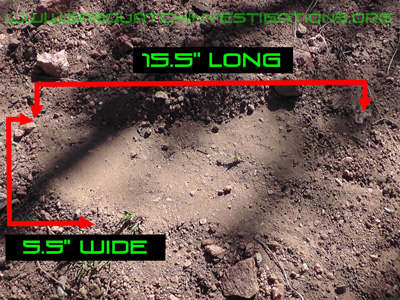 We had driven into the area on a fairly remote 4×4 dirt road which lead onto private land.
The footprint was found at the beginning of a single track trail.
It was the only print found in this location, as the direction indicates that the animal was moving diagonally across the trail and into a wooded area.
As you can see in the picture, the dry chalk soil revealed a 15.5′ x 5.5″ print.
This was definitely our best print of the 2011 season and we will explore this area further on future outings.
Find out more about our Bigfoot Research